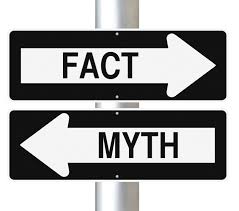 There is a considerable amount of misinformation and hype surrounding the personal injury sector. Many people that want to claim are frightened off by negative publicity. Unfortunately those fighting for the insurance sector and opposing the rights of the claimants have employed many tactics to cast doubt on the integrity of the industry and claims process. They've been extremely economical with the truth about personal injury claims and have spread damaging myths. We're hear to clear up some of those common misconceptions. Read on.
Myth: You have to go to court to win compensation
Truth: There is no need to go to court in order to win your compensation. Although it is not always possible to avoid court action due to issues between the parties, the majority of personal injury cases will actually be settled out of court as insurance companies prefer it if proceedings end amicably. So the vast majority of claims are not subject to court action. However if your case is passed on to litigation we have a team on hand ready to guide you through the process, every step of the way.
Myth: It takes years before you get your money 
Truth: The majority of personal injury cases are straightforward and will take between 8 and 12 months to reach their conclusion. However if there are issues on liability, the more complex claims will inevitably take longer to conclude. Don't panic, we aim to minimise delay and hassle to obtain the best possible results for you, the client.
Myth: Conversely there is a view that compensation is easy to acquire.
Truth: Damages are recovered only to genuine individuals with good cause for making a claim. Remember, to make a claim for personal injury compensation you have to have suffered an injury that warrants medical attention and causes pain, leads to an inability to live life normally and results in additional losses.
Myth: I'll have to pay huge solicitors fees
Truth: Not at all. If you don't win your case, you don't have to pay. If you do win you'll have to pay a percentage of your compensation as the solicitor's fee, but you'll still normally get 75% of your compensation. Remember, this is only when you win. Otherwise – no win, no fee. Simple.
Myth: The "compensation culture" is booming
Truth: Most of the common myths that are often latched on to by the media are cheap shots at claimants. We've all heard phrases unfairly labelling personal injury claims and individuals making those claims portrayed as looking for free cash, and are entirely responsible for the compensation culture they say is 'sweeping the nation.'  The compensation culture doesn't even exist. The blame game is invented to erode the confidence of claimants to pursue their claim and receive a fair settlement with access to justice that they rightly deserve. You can read an interesting article here to support this: http://www.solicitorsjournal.com/comment/fact-or-fiction-debunking-personal-injury-myths)
Finally, we suggest signing the petition below to help prevent  firms of solicitors going out of business, leading to unemployment in the legal sector and restrict access to justice for thousands of people. https://petition.parliament.uk/petitions/113810
http://www.lalawltd.co.ukdev/contact-us/ or Tweet us @lalawltd and join in the discussion.
http://multisite1.flywheelsites.com/lalaw/wp-content/uploads/sites/11/2016/02/imagesBY3ZYXDS.jpg
211
239
I Stokes
http://multisite1.flywheelsites.com/lalawdev/wp-content/uploads/sites/11/2016/09/logo.png
I Stokes
2016-02-23 12:15:33
2016-02-23 13:08:54
Common Myths and Misconceptions about Personal Injury